1. TMT QUENCHING BOX 2. CANTILEVER PINCH ROLL 3. TAIL BREAKER BOX

⇒ TMT Quenching Box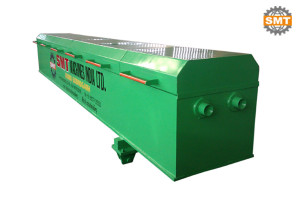 There are various route to increase the strength of steel used tor construction. One ot the oldest route is the CTD Bar route. Here the bars are cold twisted after rolling. Another method is the Micro Alloying of steel to get high strength.

The problem with both these systems is the high labour, cost and time. In CTD bars the cost of twisting and this is the main bottleneck in all the mills. For Micro alloying the cost
alloying elements is very high.

To counter these problems, SMT has developed High Strength with High Ductility

TMT Quenched & Tempered Ribbed Bars of Grade Fe 415 & Fe 500 confirming to IS 1786

We are happy to offer our International Computerized Version with the latest development" Extended Nozzles'.
⇒ Cantilever Pinch Roll

⇒ Tail Breaker Box
It is installed after the flying shear and before the cooling bed to reduce the velocity of the TMT Bars. It runs through DC or AC variable Drives. The Rolls are Separated Through Pneumatic cylinder.
It consists of steel fabricated body, Pneumatic cylinder, top and bottom rocker arms and rollers.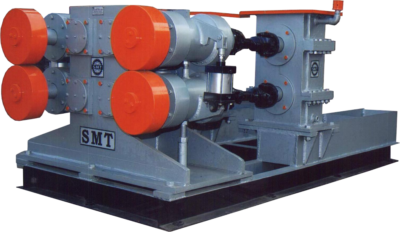 TMT equipment Manufacturers, Suppliers & Exporters | TMT equipment Manufacturers in india | TMT equipment manufacturers Manufacturers in Punjab | TMT equipment Manufacturers in Ludhiana | TMT equipment Manufacturers in Mandi Gobindgarh | TMT equipment manufacturers Size