1. EOT CRANE 2. ROLLER TABLE / CONVEYORS 3. REPEATER 4. VERTICAL LOOPERS WITH LOOP SCANNER 5. Hydraulic Trolley
EOT Crane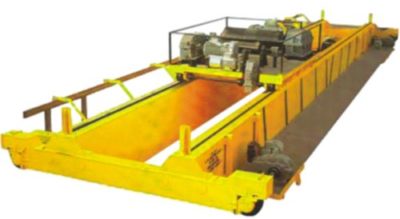 E.O.T Cranes are used in Steel plants, Induction Furnaces, Paper mills, Cold Rolling mills, Arc Furnace, Pipe mills, Power plants, Hydro Power plant. Heavy Engineering industries, Container Handling, Dyeing plants/Woolen mills, Chemical & Pharmaceutical units, Petro Chemical industry.
These cranes can be equipped for cabin, floor pendant control, joy stick control and radio control. The cabin can be attached to the bridge or trolly as in case of grabbing cranes.
Types of E.O.T Cranes
• Double Beam E.O.T Cranes
• Single Beam E.O.T Cranes
• Customized special purpose E.O.T Cranes
We can provide quality and international standards approved cranes for upto 100 M.T. Load carrying capacity.
Roller Table / Conveyors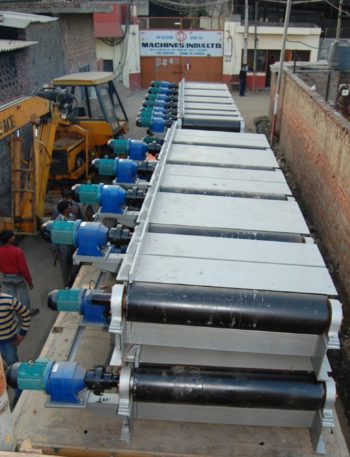 One of the Mechanical Material Handling equipment provided by us is the Roller conveyor / table which are used for the transfer of hot / cold material from one station to another.
These are steel fabricated structures and consist of fully machined Seamless pipe / barrel, Alloy Steel Round, Steel Structure, Chain Sprockets, V-belt pulley, Bearings & Bearing Blocks complete with lubrications sysytem. They are driven by Geared Motor or gear boxes and motor with chain and chain sprockets or motor and pulley with v-belts as per the requirement and suitability.
We manufacture all standard and custom size conveyors and roller tables
such as:
Mechanical and Hydraulic Y Table, Transfer Tbles, Run Out Table etc.
Repeater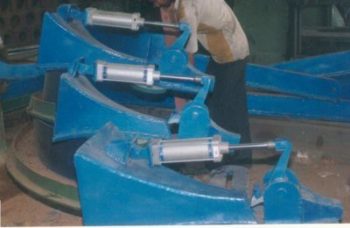 Repeaters or loppers as usually called, is a mechanical device used to repeat the hot bar in the same stand or the adjoining stand. Basically they are used for transferring the Bars / Re Bars / Deformed Bars / Tmt Bars from one stand to another. These help in saving labor and increase the production as the material is automatically shifted from one stand to another.
Repeaters are fabricated out of MS Plate and it consists of Nozzle, Jack Adjustment, Base and Foundation Rails.
The repeaters are designed and manufactured as per the requirement of the application. We also manufacture escapement type repeaters and special repeaters with inbuilt pneumatic type snap shears.
Vertical Loopers With Loop Scanner
Vertical looper with snap shear as usually called, is a mechanical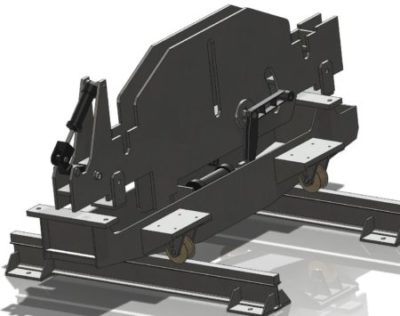 device used to give the loop between two consecutive continues mill stand.
For optimized rolling between stands, loopers maintain a loop to ensure that there is no tension in the rolled material.Vertical Loopers is supplied along with Necessary instrumentation like loop scanners and automation.
Type – Vertical, Single Strand
Location – Between Stands
Each Looper shall be in fabricated steel construction. The loop formation shall be carried out by a deflecting roller actuated by two Pneumatic air cylinders. Freely rotating guide roller shall be provided on entry and delivery side of the looper to guide the bar.
All rollers shall run in antifriction bearings, duly sealed to avoid ingress of water and scale.
– Pneumatic Cylinders
– Electro Pneumatic Equipments
– Lubrication piping on equipments
– Scanner Support
Hydraulic Trolley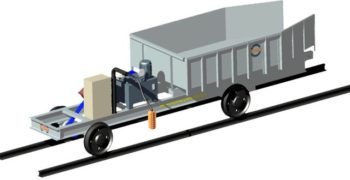 Trolley moves on track with wheels similar to that of railway bogie. The trolley is loaded with scrap according to the capacity and driven on track. It is displaced near to the furnace with the help of electric motor and then trolley gets lifted up with the help of hydraulic and scrap is delivered to the furnace. Empty trolley is driven back to the starting point and the cycle repeats until unless the furnace is filled to the capacity.
Material handling equipment Manufacturers, Suppliers & Exporters | Material handling equipment Manufacturers in india | Material handling equipment Manufacturers in Punjab | Material handling equipment Manufacturers in Ludhiana