One Side of its leg is travelling on elevated runway system and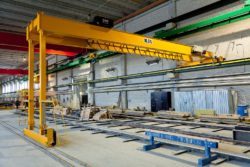 other side is the end of girder travelling of the bracket track .It saves cost and space of operation. Semi gantry crane form 3 dimensional work space by hook moving up and down , trolley travelling left and right ,crane travelling back forth.
There are two typical applications:
Indoors, it is often used under the existing overhead cranes to provide more hooks, thus improving the productivity of your factory.
Outdoors, often is used near the building, making full use of the existing runway structure, thus improving the cost efficient of your factory or plant.
It is a special form of Gantry Crane.
>>>CAPACITY : 5 to 25 tons