Free standing jib cranes are designed to stand on the land not by any other support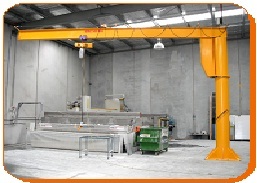 but by themselves. It consists of a pivoting vertical column and a horizontal load supporting boom.
Basic Parameter : It is a kind of middle and small lifting and equipment developed recently and very suitable for short distance moving and workplace of crowed lift and transportation.
Crane Rotation : 360 degrees Arm Length : up to 16 m
Rotating Speed : 0.5 r/min Safe Working Load : up to 16 tons
Working Temper : -20~+40℃ Traveling Speed : 20 or 30 m/min
Power : AC 415V, 50HZ,3P Capacity : 1 to 5 tons
Control Model : Pendant Handle, remote and cabin
Applications : widely used in all kinds of industry
Hoisting Heights : up to 12 (floor to underside of boom)