Compared with the single girder crane, double girder gantry crane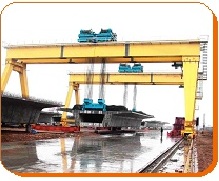 is more powerful and the gantry crane design is more complex. We attach great importance to product's reputation. It is mainly used for lifting heavy loads with high working strength, in severe working conditions.
The maximum lifting capacity is unlimited.
>>>CAPACITY : 5 to 40 tons