TMT BENDING MACHINE
With Technology Upgradation, automatic bending machine is now being used in high production plant of 8mm-32mm TMT bars resulting in following benefits –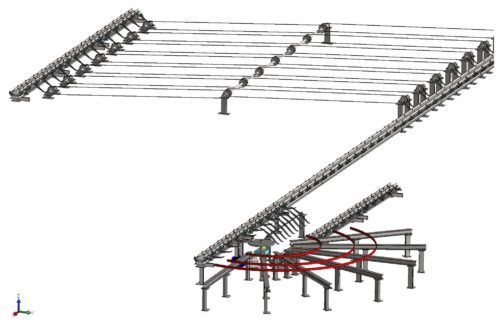 1. Drastic Reduction in labor.
2. Fast processing.
3. Accurate bending.
4. More bending resulting in less coverage
of space in truck and in stock yard.
5. Reduced cost of production.
6. More cleanliness in the stock yard .
7. Less labor so less chances of accident.
8. Best Solution for High Production Rolling Mill
PROCESS –
The process of bending starts after Shearing of TMT Bars from Cold Shearing Machine installed after Cooling Bed.
After shearing of Standard 12 meter long Bundle of TMT Bars, it will get transfer to another 12 Meter Conveyor through Skid type transfer cooling Bed. The whole set of Bundles of 40-50 TMT Bars get transfer together through this cooling bed to the conveyor. The skid transfer type cooling bed consists of Chain, Dog, Sprocket and structure.
Skid Transfer Type Cooling Bed is 8+8 m = 16 Meter wide and 12 Meter long. This is a slow speed transfer system, which keeps on moving at a very slow speed and paralley labor bundles 10 kg TMT Bars which automatically gets transfer to the Delivery Roller Table through kick off system. In this Skid Transfer type Cooling Bed, the short length of TMT Bars, (which is left at the end after cutting of all 12 Meter TMT Bars), are transferred at the end time. This short length material, after reaching to the conveyor from skid transfer, is thrown out at the open space.
Tying Machine –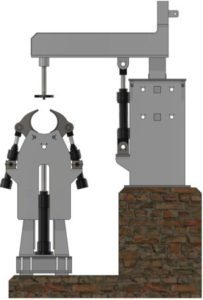 To be installed after cold shearing machine. First the 12 Meter conveyor of 500 Barrel Length will be installed and from that, transfer skid table will be installed. TMT Bars after getting shear from cold shearing machine will be transferred on automatic transfer skid table and from there 1 – 2 Ton of TMT Bars will be shifted to delivery conveyor which will further go to tying machine. Tying Machine will bundle upto 2 Ton of TMT Bars automatically and from that it will go to receiving conveyor which will transfer the material to finishing table. Transfer skid table will be completed with chain, chain sprocket, shafts, kick off system, motor, bearing, bearing block, pneumatic cylinder etc